Meet The Family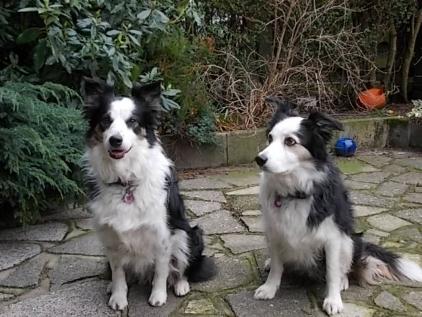 The arrival of our second rescue dog and finding that we had double trouble rather than the anticipated two's company prompted me to seek help with sorting out our problems. It was soon apparent that these problems were not going to be resolved in a class situation either and so it all began – private training led to me being bitten by the obedience bug and soon after I discovered agility and the whole thing escalated to total canine fascination! Finally taking the plunge to leave office work and start Busy Bee Dog Training in 2007 has been the realisation of a dream and gives me immense job satisfaction into the bargain. The pleasure I have had from my own dogs has been both my inspiration and motivation to help others experience the same enjoyment.
Following a series of rescue dogs along came my first puppy, Luke, the collie I said I would never have having seen so many 'black and white wind ups'! Luke qualified to work top level obedience and was selected as part of the Inter-Regional team for Crufts; he was also the first dog on the Island to qualify to compete at what is now Grade 6 (then Senior) agility. Sadly we lost Luke at the grand age of 16 years in 2012, a real gentleman and very much missed.
Josh,another collie, was the next in a series of rehomed dogs that we had had over the years and he presented us with by far the most problems, both with his behaviour and health. It took two years to even begin to turn this canine delinquent into the character that we loved so much with many tears of frustration along the way! Sadly Josh had hip dysplasia so his agility career was short lived but he continued to do competitive obedience and was known and loved for his happy outlook on life no matter what it threw at him. We lost this very special boy all too soon at just ten years of age in 2011.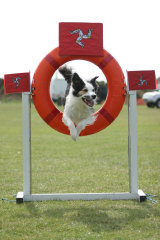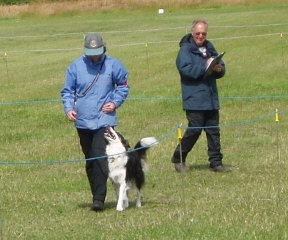 Bea is the older of our two collie girls and was always known as the Perfect Pup as she never seemed to put a paw wrong although her stunning looks do allow her to get away with more than most! She is very much my little shadow and she loves to be working with me either at her obedience or agility training, she's lovely to work with although she can be cheeky and throw in something naughty and unexpected! Bea is now competing at Grade 6 agility and is currently (Jan 2013) just one win short of moving into Grade 7; she has also worked her way up through the obedience classes too gaining her second win in Class B in the summer of 2012, with just one more needed to qualify her as C only, a challenge that she thoroughly enjoyed. She can now boast both her Kennel Club Silver Agility Warrant and also her 'B Excellent' qualification in obedience.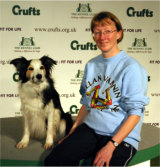 Bea will be making her sixth appearance at Crufts in March 2013, completing a hat trick in both disciplines and making her a hard act to follow.
However all this success has never gone to her head and she often accompanies me on lessons and specialises in giving confidence to nervous dogs and acting as a calming influence on those with more reactive problems.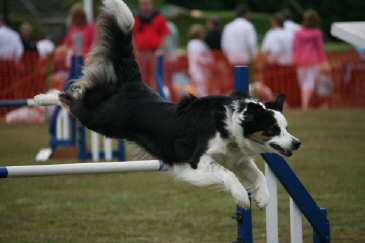 And then there is Amy (Foxbarton Bee's Knees) born in August 2008 and coming all the way from Surrey. She is a feisty young lady with a strong mind and probably capable of winning a canine Mastermind if she had the opportunity! Amy is starting to fulfil her potential now and showing great style and ability in obedience.
She has also done well in the show ring (winning Maiden Bitch and gaining a 3rd in AV Pastoral Open in Sept 2010) but had to retire from agility following an accident that resulted in a dislocated knee.
However this has not stopped her from continue to live life at full speed only stopping long enough to give the best cuddles ever!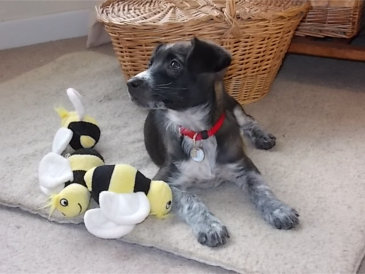 Our latest (and unplanned) addition to the family comes in the shape of Fred (the litter were named after the Flintstones!) a young puppy from Last Hope Animal Charity in Co. Meath, Ireland. We saw a photo of him and he looked so much like Josh it was love at first sight, two weeks later (January 2013) he arrived on the Isle of Man! He has proved an absolute delight, endearing himself to everyone around him, two and four legged.
Fred's mum is a terrier cross and his father is allegedly a collie but only time will tell quite what he will finally look like, in the meantime it will be fun to keep guessing!
Amy thinks he is her personal super cool interactive toy and they are having a fabulous time playing whilst Bea is still vaguely optimistic someone will come and take him away!
Home - Contact Us - Links - Specific Problems - General Obedience & Puppy Training - Competition Obedience - Rehomed Dogs - Testimonials - Meet The Family - News on Facebook